Resume Do and Don'ts 
The main purpose of the resume is to obtain a job interview, not to get the job. Your resume is an advertisement of you and needs to compliment your skills and abilities as they apply to the employer's needs.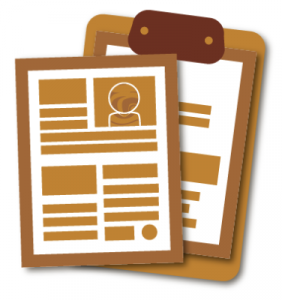 Top 10 Dos of Resume Writing
---
Keep your resume

clear, brief and easy to read

. Employers may only spend between 15 – 30 seconds to scan your resume before deciding to move on to the next one. You want the employer to be interested enough to meet you in person.




Target your resume to the specific needs of the position

and the company you are applying to. Use the employer's job description or posted advertisement to assist with targeting their needs, and make sure to use keywords; these words are what "Electronic Screeners" are looking for.





Include

transferable skills with specific examples

. If you saved the company money, include details about how much or by what percentage. This shows measurable success and keeps the statement from sounding vague.



Make sure that there are no misspelled words, grammatical or formatting errors. Use spell check and proofread your resume many times. Make sure to get at least one or two others to proofread it as well. Edit your resume to reduce "fluff" and make every word count.



Give the

most weight to your most recent

(past 10- 15 years) professional work experience. The section of the resume for your most recent position should contain more bulleted accomplishments than your previous positions. For each position, rank the accomplishments in order of decreasing relevance to the employer you are targeting.




Make sure to use a

professional email address

. Email addresses like Iamtoocute@email.com are unprofessional and shouldn't be used in your job search. Use your name or a variation thereof specific to your employment target, like

bill_doe.rfp@email.com

for a Registered Forester position.



Pay as much attention to your resume's design

as you do to its content. Use bullets or other appropriate symbols, insert horizontal lines, use blank space or bold titles to separate major sections, and use a 10-to-12-point conservative typeface for the body text of the resume. Aim for 1-inch side margins and slightly smaller top and bottom margins. Ensure font size, style and color is consistent throughout the resume (headings can be a larger font size, but ensure they're also consistent throughout the document.

Include relevant volunteer experience, and professional licenses and certifications in your resume, particularly if they are relevant to the position you seek. These "extras" can sometimes be the factor that wins you the interview.
Use a two-page resume if appropriate. Two-page resumes are fine (and in some cases, preferable) if you've been in the workforce for about ten years or more or have particularly impressive work experience.
If you're just starting out in the workforce and don't yet have much professional experience, tell the hiring manager more about you by noting any educational experiences, practicums or training placements that may be most relevant to the job you're applying for. You can also include a section on interests if they feel aligned with the position/company or help to set you apart from other applicants.


Top 10 Don'ts of Resume Writing
---
Don't lie or embellish the truth

to inflate your accomplishments, level of responsibility, or skills.



Don't include copies

of your certificates or letters of reference with your resume, unless the employer specifically requests them. These should be provided during the interview process.



Don't confuse your resume with your autobiography.

While there are many pieces of information that your resume must have, its primary purpose is to focus on the aspects of your life and career that address the employer's needs.



Don't provide personal data

that isn't necessary for the application. Marital status, date of birth, height/weight, and similar non-work-related information can be used to illegally discriminate against applicants, and they rarely add anything of value to your qualifications.



Don't repeat the same action words throughout the resume.

Instead of using the verb

developed

or

led

over and over, use an online thesaurus and mix in terms like

accelerated

,

delivered

,

directed

,

established

,

initiated

, or

re-engineered

. (Make sure the synonym feels appropriate in the context of your sentence.)

Don't use more detail than you need to convey your accomplishments. Dense, paragraph-sized bullet points make for tough reading. A good rule of thumb is to limit each bullet to one to two lines of text with three to five accomplishments for each position.
Don't include reasons for leaving previous jobs,

or past salaries. These are issues which should not be discussed until the time of hiring.



Don't include irrelevant experience

, training or certifications; a construction company does not care if you have your "Serving it Right" certificate or worked as a pet groomer.

Don't overuse cliché adjectives like dynamic or self-starting. Let the details of your resume and cover letter convince the employer that you have these qualities.
Don't make your resume look like a "grocery list" of your job duties — make it a list of your accomplishments using the SAR approach: Situation, Action, Results.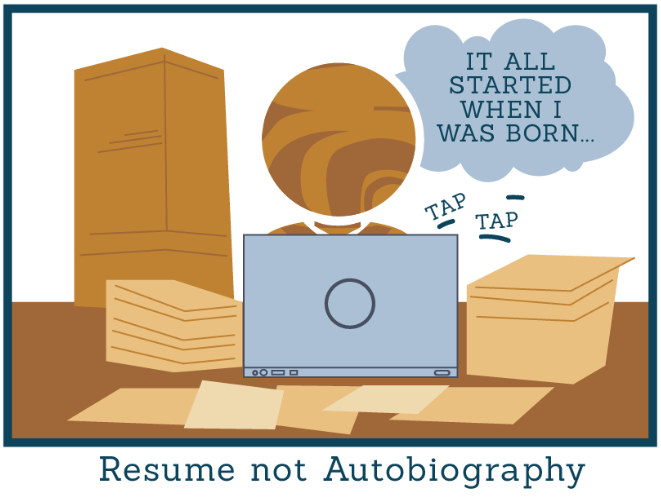 Resume Styles

---
There are several different approaches you can take with your resume, and the best style for you will most often depend upon your own experience along with the position you're applying for. Below are several resume samples of different styles – which one do you prefer?
Sample chronological style resume:
Ricardo Smith
439 Robinson Avenue
Campbell River, BC
204-555-2565
ricardo.smith@email.ca

---

Professional Experience

Carpenter Apprentice 2009–2012

Wood Chip Carpentry, Kelowna, British Columbia
Assisted with framing, roofing, stair-building, and various rough carpentry projects

Worked with Journeyman on completing estimations and contributed to design plans to ensure projects met building code standards
Workshop Assistant 2009
Stephen Jones Carpentry, Winnipeg, Manitoba
Learned to operate a variety of power tools, such as table saws, radial arm saws, circular saws, planers, and drills

Assisted carpenters with projects by prepping surfaces and cleaning up workshop
General Labourer 2007–2009

Hank's Hardware, Winnipeg, Manitoba
Stocked, priced, and helped maintain inventory of store merchandise

Swept and mopped aisles, ensured products were properly displayed on shelves, and helped carry out large orders to customer vehicles
Volunteer experience
Chippewaka College Students' Council Treasurer

2011–2012

Humane Society of Vancouver

2010–2011

Carlington Heights Students' Council President

2008–2009

Carlington Food Bank

2007–2009
Accomplishments
2011 provincial bronze medalist in lacrosse

Qualified for 2012 semi-finals of national skills competition in carpentry

3 years on Chippewaka College Dean's List

4 years on Carlington Heights Honour Roll for Academic Excellence

Sample functional resume:

Mike Everyman
---
Campbell River, BC
250-555-8329
Mike_E@email.com

HIGHLIGHTS:
5 years landscaping experience

Safe and proper use of all hand tools 

Ability to work quickly and effectively to customer satisfaction

Ability to work within timed deadlines

ITA registered apprentice
EXPERIENCE:
Landscape Labourer Tim's                           Landscaping Co LTD.                            Campbell River, BC

2011 – Present
Perform grounds keeping and building maintenance duties. Mow lawn either by hand or using a riding lawnmower. Cut lawn using hand, power or riding mower and trim and edge around walks, flower beds, and walls. Landscape by planting flowers, grass, shrubs, and bushes.
Garden Department, Customer Service                Landscaping Co LTD.                 Campbell River, BC

2011- 2013
Organizing, loading and delivering customer purchases. Product movement within the store. Operating forklift for loading and unloading product and shipments. Providing excellent customer service to customers with all their shopping needs and inquiries.
EDUCATION:
Carihi Secondary – Dogwood Diploma 2009

Landscaping Horticulture Level 1 – North Island College 2010
REFERENCES:
Available upon request